5 Ways to Improve Your Facebook Marketing for Hospitality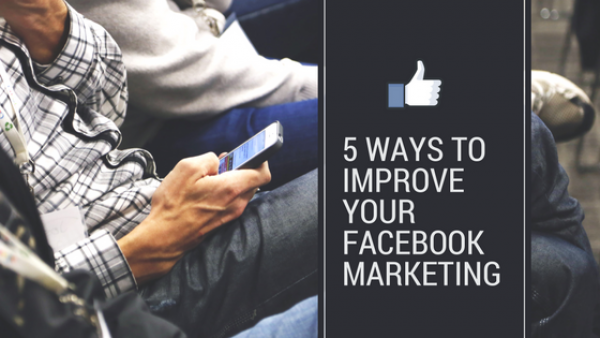 According to an article from Hootsuite, "Social media advertising budgets doubled worldwide over the past two years—going from $16 billion U.S. in 2014 to $31 billion in 2016." Facebook Ads offer hospitality marketers an outstanding opportunity to create unique experiences and drive sales for their business.
For the past seven years, we have been helping our clients elevate their Facebook marketing efforts.  We make the changes necessary to produce tangible in-store traffic with more butts in seats. Facebook has evolved from a "just post stuff" social network to a powerful marketing tool that balances original, user-generated, promotional content boosted to a targeted selection of Facebook users most likely to come to your business.
We've recently completed an audit of over 15 restaurants, bars and pubs in Canada. We then compiled our data to help you improve your marketing efforts and get more butts in seats. Here are five ways to improve your Facebook marketing, today.
As more and more businesses begin to leverage Facebook, hospitality marketers must elevate their content game. At the end of the day, you are fighting for attention and the best content wins. Luckily, it's extremely easy to generate high-quality content on a budget, but there's still a few key things to remember when deciding on what you're going to create.
1. Better Content
As more and more businesses begin to leverage Facebook, hospitality marketers must elevate their content game. At the end of the day, you are fighting for attention and the best content wins. Luckily, it's extremely easy to generate high-quality content on a budget, but there's still a few key things to remember when deciding on what you're going to create.
Creating Graphics
Tools like Canva and Flixel are great for making graphics and dynamic photos, plus you can easily export them into the sizes and formats you require. At Clickspace, we have a Canva for Work account and we absolutely love it. It gives us access to a massive database of stock images, pre-designed templates and lots more.
Keep in mind that Facebook only allows for 20% of the image surface area to be consumed by text. If there's too much text, your ad will not run. Check out this simple tool from Facebook to evaluate your image and ensure that it meets Facebook's advertising guidelines.
Video
In our opinion, video is a much more effective method of communication than long-form text because it's easier for your customers to consume. For videos, either overlay text on the video or add subtitles when someone is talking. Facebook bots can auto-generate these subtitles (with a bit of your human help) and this allows users to effectively watch your video from autoplay on their newsfeed.
Consider how and where people are going to watch your videos. Most of the time, people watch Facebook videos on mobile, so having content that shows food from far away, for example, will not be easily decipherable for your customer. Use close-up images and videos to show your product, atmosphere, and exclusive offers, keeping the video between 5 and 15 seconds. For recording super simple looping videos, try Instagram's Boomerang.
2. Data Targeting
We've spent over 100K USD in Facebook advertising, and we can say with that extensive experience we have found that their interests targeting is not super accurate. We quickly learned that today's best marketers no longer rely on this targeting and instead opt for data targeting.
So what, exactly, is data targeting on Facebook? Simply put, data targeting allows you to plug in your own customer data (or data you've purchased from a third party) in to Facebook and then target those people with special offers, promotions, and entertaining content. Customer data can be collected in many ways: it can be pulled from your point of sale system, generated from online and offline contests, or pulled from your email newsletter list. Collecting the data is not always easy but it's definitely worth it—your marketing efforts will improve dramatically. If you'd rather get someone else to do it, you can hire a company to data mine. There are many companies that fit these criteria, but our favourite is InfoCanada. They have one of the highest quality databases in the world that gets scrubbed regularly for quality and is accessed by companies like Google.
Once you upload the data to Facebook, it creates a new audience with any individuals who are using the social network, giving you the access to begin targeting them with ads. People who have already visited your business are more likely to come back, so think of it as retargeting— your customer just interacted with you and then reminded of you through social media.
3. Lookalike Audiences
To take your data targeting one step further, you can create what is called lookalike audiences. These audiences are designed to mirror the customers whose data you uploaded and create an audience of individuals who are within 1% similar to those customers. This is how top marketers reach new audiences that are likely to visit their establishments, and we have found these audiences to be tremendously successful. Once your lookalike audience is generated, you can even narrow down the targeting within Facebook to further improve your chances of success.
4. Social Share Signage
One of the biggest lost opportunities in the hospitality industry is the encouragement of social media sharing while at the establishment. The best things to get people to do are checking in to the business, sharing an image of their food or drink, and using a company hashtag. These posts are seen by an average of 300+ people and 40% of consumers make purchase decisions based on word of mouth recommendations. It's not always just as simple as requesting that your customers take photos, sometimes you have to give them ideas! Some recent trends we've spotted are interactive coasters, interactive in-store displays, and serving trays that encourage social sharing. The more positive exposure your establishment gets online, the better— and it all starts with reminding people to do it. There's a reason that YouTube stars always ask people to like and subscribe, it's been proven to significantly drive engagement rates, compared to not asking at all. And if you're looking to take your in-house signage to a new level, consider interactive digital content on your TVs— a strategy proven to increase dwell time, last call sales and social media shares.
5. Employee Amplification
The final way to improve your Facebook marketing is a technique currently used by some of the best brands in the world, including Hootsuite. Employee amplification is probably one of the most underutilized strategies in the entire industry, and many marketers forget that they already harness the power to amplify their content at their business! When a critical post or big company announcement goes out at Hootsuite, employees receive an email with all the critical information they need and the time that the post will be going out. Once the post goes live, a vast majority of employees like and share the post to their network on social media. This increases the reach dramatically. Leveraging word of mouth and employee referrals, this type of amplification can be extremely powerful for driving more results for the business giving you more customers, more of the time.
If you found this article to be helpful, please share it with someone who could also benefit from the information contained within. If you ever want to pick our brain about social media marketing, ads and Facebook targeting, don't hesitate to contact us today.